Stagecoach Trails Guest Ranch
Located in a secluded wilderness area, our dude ranch in Arizona is 1 hour away from the nearest town.  As a result, there are no crowds, no cities, just incredible nature.  Only 2 hours south of Las Vegas and 2 hours from the Grand Canyon West Rim, our ranch family is dedicated to providing you with one of the best
 

all inclusive dude ranch vacations

 

you can find. We have worked hard to create a special, friendly atmosphere where you can get a glimpse into the old west while enjoying the beautiful North West Arizona desert and all the peace and quiet one could hope for. We invite you to stay with us and be part of our guest ranch family, even if it is only for a little while.
Ride in the beautiful Arizona desert with our friendly wranglers who have made dude ranches their home for years. For the beginner rider we offer slow scenic rides among the cactus landscape. Unlike many other dude ranches, we offer the more experienced riders
 

trotting and loping

 

in the desert washes. Our ranch borders over

 

360,000 acres

 

of natural western desert beauty at the foot of the Mohave and Hualapai mountains. So you can be assured of breathtaking views, constant sunny days and a fantastic family dude ranch vacation.
Set up like a little Western town, our
 

dude ranch

 

will make you feel like you've stepped back in time living the life of a true cowboy. Bring your cowboy boots and cowboy hats and see what it is like to live the western way of life.
---
Ranch Experience
Your hosts, JP and Tricia McCormick invite you to try this special Arizona dude ranch! We welcome travelers from all over the world to come and experience our guest ranch where the Old West blends with the new. The staff will do everything they can to make sure everyone who stays here has the most memorable western experience possible! So come see how the west is really fun!
Our guest ranch offers an all inclusive ranch vacation that includes: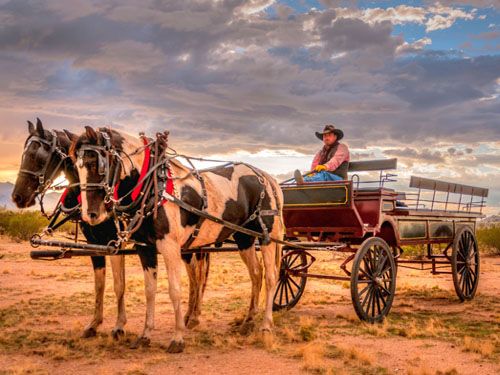 three delicious meals per full day,
two horseback rides per full day,
swimming pool,
hot tub,
hiking,
archery,
wagon rides,
Stagecoach rides,
ATV's,
fat tire mountain bikes,
cowboy action shooting and much more.
In addition, each room has a patio with rocking chairs, some with courtyards, bathrooms, and Western themed decor throughout.
In the evenings head out to Frontier Lodge for some family friendly fun.  You can also head to the courtyard to watch our wranglers demonstrate roping and bullwhipping.  In addition, you can just marvel at our stunning sunsets and star filled skies. Ever wonder what it was like to be in a one on one gunfight, then give it a try during our gunslinger night were you get to see if you have the quick draw skills of those of the past. Ever wanted to see one of the 7 natural wonders of the world, the ranch being near the Grand Canyon makes for a great day trip. To sum it up, if you really want to experience an Arizona dude ranch, we invite you to come and try our little slice of western paradise.
---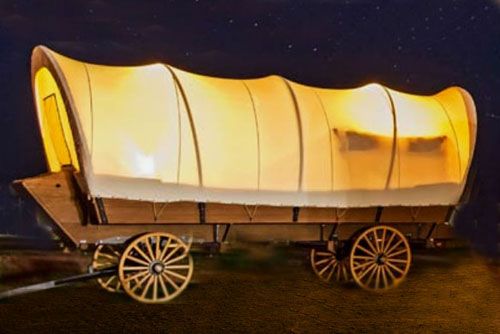 Pioneer Wagon
Stagecoach Trails Guest Ranch is proud to announce the addition of our Pioneer Wagon. Also known as a Conestoga wagon, these were used extensively during the late 18th century to haul heavy freight that were pulled by teams of draft horses. Consequently, their large size makes them perfect for sleeping accommodations and offer plenty of room for a family of 5. Sleep under the stars like the settlers of the Old West did and listen to the coyotes howl at night. Equipped with electricity, heat, air-conditioning, King size bed, and 3 bunk beds; this is Glamping at its finest!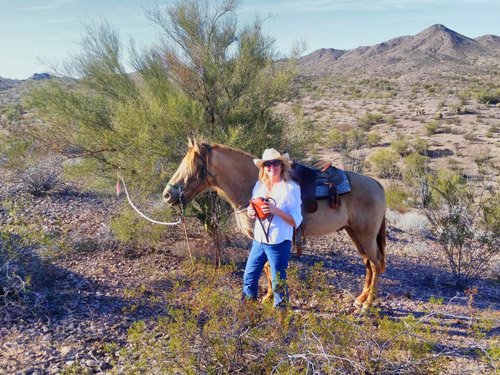 Riding Program
One of the great features of our all inclusive dude ranch is our riding program. Most of our guests have found our Horseback riding to far exceed their expectations. For example, we encourage all our guests to help saddle the horses, groom them, put them away at night and even feed them. While at the ranch we want you to be a part of our western way of life in every way. After all, we love what we do, and we know you will fall in love with it also.
Unlike many other dude ranches, our staff live on the ranch. We feel their presence day and night is essential to your dude ranch vacation experience.  They are a part of our ranch family and will be a part of yours during your visit. We feel that a big part of your experience is to live the life we all have embraced for years. Above all, every member at the ranch takes great pride in including you in their daily activities. For instance, if you see us shoeing horses do not hesitate to stop by, observe and ask questions. If you see us training horses, come down to the corral and enjoy the show. After all, this is the cowboy way of life and we want to help bring out that hidden cowboy in you.
---