Top Vacation Spots & Travel Ideas for Seniors
Top Vacation Spots & Travel Ideas for Seniors
Eager to travel but unsure where to venture? Look no further than these top senior vacation ideas!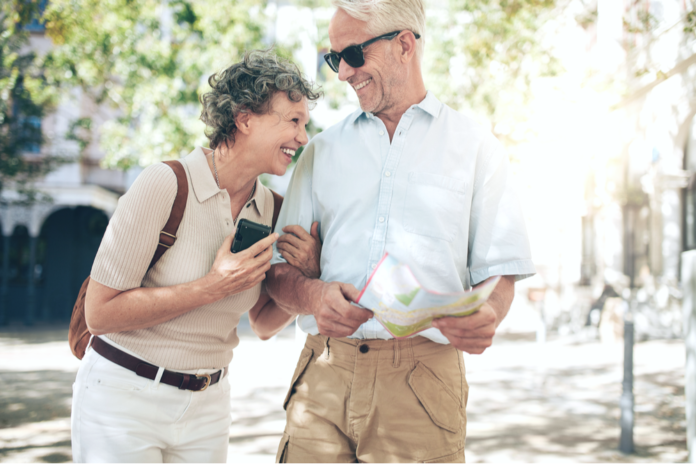 Amongst most people's bucket lists exist top vacation spots. After all, traveling can be one of life's greatest pleasures, offering opportunities to see new sights, relax by the water and/or immerse into new cultures. So when it comes to vacations for seniors, are some spots more enjoyable than others?
Discover what deems a travel destination senior-friendly and some of the best senior vacation ideas!
Why Travel as a Senior?
Indeed, traveling at an older age has surprising health benefits. According to a few scientific studies, traveling after the age of 50 improves brain and heart health, and reduces the risk of depression. Taking a family vacation with extended family also improves mental and emotional health and enhances relationships.
Not only this, but traveling can increase one's ability to see new perspectives, improve self-confidence and efficacy, and provides an opportunity to access the deepest parts of the mind.
So if capable, traveling is definitely recommended for the senior population!
What Deems a Good Senior Trip Place?
Really, this is quite variable. Different places are going to appeal and cater to different people based on a variety of factors like:
Budget
Interests
Physical capabilities
Accessibility
Excursion offerings
Inclusivity
Culture/Vibe/Atmosphere
Group size
While not exhaustive of factors to consider, it encompasses some of the major ones. When deciding on a trip, it can help to first determine whether you are seeking more of a relaxing vacation or an adventurous trip.
Examples of the first would be renting a shoreside condo in Naples, Florida, or sipping Pina Coladas at an all-inclusive Jamaican resort while examples of the latter include exploring a national park or sightseeing mainly via foot in Europe.
To help further narrow down the perfect destination sites, consider the following questions:
How much money do I want to spend on a trip? – International travel, cruises, and tropical all-inclusive resorts tend to be pricier than camping or staying in a condo a couple of blocks from a beach.
What am I looking for in a trip? – Adventure? Relaxation? A mix of both? An adults-only, all-inclusive resort? Good food? 
Will I be able to get around easily enough? – Does the place require ample walking? Is it wheelchair accessible? What is transportation like?
Are extracurriculars offered? – Bonfires? Bingo? Croquet or bocci ball? Theme parks? Bike, kayak, canoe, or boat rentals? Cocktail hours, performance shows, or sheltered chairs along the ocean?
What atmosphere sounds appealing? – A ski lodge? Lake life? Romantic Paris vibe? A Yellowstone sightseeing adventure?
Keeping these considerations in mind, there are a few travel ideas that reign supreme for seniors year after year. Take a look!
Best Vacation Spots in the US
A senior trip destination can be right in this very country. Consider these unique spots, including state parks and other scenic spots!
US National Parks – good for adventure, road trips, camping, and sightseeing
National parks are great for seniors because they are accessible to travelers with a range of interests and abilities. Not to mention they all offer something unique!
Whether trekking up the altitude in the Rocky Mountains, watching Old Faithful erupt at Yellowstone, or appreciating the glass water of Glacier National Park, there is something for everyone along the outdoorsy spectrum. 
And if aged 62 or older, Americans can get a National Park Service lifetime senior pass for a one-time fee of eighty dollars. 
Santa Fe – good for arts and culture, ideal climate, some outdoor adventure
New Mexico's capital city reels in artists and culture-driven tourists thanks to its Spanish Colonial atmosphere and magnificent setting within the foothills of the Sangre de Cristo Mountains. It specifically lures the 65 and older population thanks to its warm but dry climate and compact and walkable historic downtown. 
Dating back to the 1600s, the adobe is centered in a leafy plaza that boasts art galleries, Native American museums, and unique Southwestern food cuisine. The more adventurous ones can hike or ski in the surrounding mountains as well.
St. Augustine, Florida – good for hot weather, accessibility, senior activities
Really, the whole state of Florida is a wonderful senior travel option. But, known as the oldest continuously occupied European settlement, St. Augustine lures many history buffs. 
The four blocks of St. George Street, a walkable, magnolia-filled historic district makes it easy to see a lot in a small area. There are also plenty of convenient sightseeing trolleys, often with discount pricing. 
Some of the most popular sites to see include Castillo de San Marcos masonry fortification, Victorian Lightner Museum, and the Fountain of Youth Archaeological Park. 
Sedona, Arizona – sightseeing, magnificent sunsets, relaxation, and/or adventure
Though rattlesnakes, cacti, and scorpions are plentiful, the magical town of Sedona is a sightseer's deepest dream. Less than two hours away from Phoenix, it champions exquisite red rock cliffs, doable hiking for all types of abilities, bird watching, Jeep tours of geological wonders, and wondrous cotton candy sunsets. 
In fact, some people consider Cathedral Rock the most stunning place to view a sunset. Plus, there are plenty of hotels, resorts, and yogi findings for those more inclined to relax. 
Sonoma Valley – wine tasting, group prices, enjoyment
Although Napa is more popular, perhaps Sonoma is more your style? Rather than hitting the high road to Napa via Limousine, one can slowly drive down a dirt road to casual outdoor patios with affordable wine tastings. 
And while the average cost of Napa Valley runs at $460 per day, the average Sonoma average cost per person is closer to $292 per day. Compared to Napa, Sonoma is known as being more expansive, more casual, and less commercialized. It grows far more grapes than Napa, which means more wine as well. 
In terms of wine, it is specifically known for Chardonnay, Pinto Noir, Zinfandel, Red blends, and Sparkling wine.
Best International Travel
From inclusive resorts to cruises for seniors and families, set sail and abroad to these beautiful top vacation spots!
The Caribbean – good for tropical weather and amenities, relaxation, turquoise ocean
This tropical destination provides an ideal setting for relaxation. With its clear waterfront, soft sand, spa appointments, and breezy air, it serves as the cornerstone of bliss. The Caribbean is also accessible via cruise ship, which is potentially a better option for those who have trouble getting around via foot. 
However, wheelchairs and other mobility equipment are available via Scootaround or Special Needs at Sea. For destination inspiration, consider visiting the exquisite islands of Cuba, Bahamas, Antigua, and Barbados.
Alaskan Cruises – good for lower physical activity adventure, bucket lists, uniqueness
One of the most ambiguous states due to its unique light and dark periods, Alaska boasts giant glaciers, grizzlies, magnificent trout and salmon, and Denali National Park. However, one need not be a rugged explorer to appreciate its beauty. 
Alaskan cruises not only provide accessible accommodations, but they may also allow one to experience more of Alaska in one given trip. These cruises reveal marvelous coasts, port cities, excursion options, and fly fishing that is unparalleled. 
Helicopter shore excursions provide bird's eye views of the rugged mountains, lush forests, and flowing waterways. There is also an option to board the Aurora Winter Train that chugs through Anchorage and Fairbanks from Fall to Spring which is prime time to view the famous Northern Lights.
Machu Picchu – good for bucket lists, group tours, historical significance
Many people desire to hike along the Inca trail en route to the citadel in the Andes, but Machu Picchu offers much more. Cusco offers train rides to the mysterious citadel with views of lush valleys and snow-capped peaks. 
The large amounts of guided group tour options also provide an opportunity to not only receive help planning the trip but accommodation needs and socialization! In fact, amongst their online community, meeting new people on their trips is one of the best aspects. 
Thailand – good for a lower budget, food, relaxation, and/or adventure
While road trips and camp lodging are perhaps the best way to save some bucks, visiting Thailand, which offers a favorable international exchange rate helps save the bank too. In Southeast Asia, the US dollar stretches far, oftentimes deeming bougie restaurants, upscale spas, and quintessential hotels surprisingly affordable. 
And for those who crave excitement and variety, Thailand boasts Buddhist temples, sandy beaches, floating markets, and of course, Bangkok. 
South Africa – good for safari rides, photography, group tours, unique activities
What activity ranks top ten on the majority of bucket lists? That is right– African Safari rides. Who would not want to see lions, elephants, giraffes, zebras, and more in their natural habitat? 
Because wildlife viewing tours are enjoyed in all-terrain vehicles rather than foot, it is a wonderful activity for seniors. In addition, South Africa's Kruger National Park, vineyard tours, beach excursions, and the tram ride to Table Mountain in Cape Town may make this the trip of a lifetime. 
The Bottom Line on Vacations for Seniors
Whether taking a trip to the above list or perhaps venturing to Virginia Beach, Ocean City, what have you, senior travel is recommended if capable and comfortable to do so.
If traveling is out of the question, consider even a small road trip or picnic at a local park. Even a change of scenery can do the mind wonders!
---